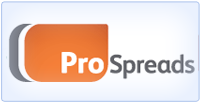 Why choose ProSpreads?
ProSpreads markets itself as "The Professional's Choice". They aim to attract the high rolling professional traders as opposed to beginners. What attracts professional traders to ProSpreads - they have DMA functionality which means prices should perfectly reflect the underlying markets and therefore gives the investor the opportunity to exploit liquidity i.e. perfect for scalping
Key features
Every trade is referenced from the underlying market i.e. the spread will reflect the actual price in the market. So you cannot have the price moved against you - the argument is that ProSpreads is neutral whether you win or lose so what's the point in stiching you up on moving prices
No re-quotes
They allow limit and stop orders at any price, including at a level which is inside the underlying market spread
Citrix platform is very fast so traders can execute a spread bet with its clients often in a fraction of a second. Recent market volatility has meant that this speed of execution could be the difference between a winning and losing bet and is also improtant for scalping
Traders signing up to ProSpreads have to deposit a minimum of £1000, but you will need to put in more if you don't want to get closed out on your first trade! If you want to check out the platform and DMA before committing the capital you can sign up to a demo account
They deal in lots not points (resembling the futures market) - this may take some time getting used to if you are accustomed to other platforms
About the Company
2005 ProSpreads started as FuturesBetting.com. The company was set up to provide serious speculators with a trading platform which could deliver the level of technology demanded by professional traders.
2008 ProSpreads became part of London Capital Group.
Based in Gibraltar and has dual regulation by the FSC and GRA in Gibraltar.
Platform set to offer Direct Markets Access functionality for executing spread bets on the major indices, currencies, commodities and equities.