This section assumes you understand the basics of matched betting. If you don't, please read: 'What is Matched betting?' before continuing.
The key principle about our matched betting that you need to understand is that you to look for the offers that require the minimum outlay to be able to receive and withdraw the free bet (money!). The theory though, can be applied to all offers made by bookmakers, so if you think you understand enough to go ahead on your own, use our Effective Value of Sports book offers table as a guide to the best value offers.
The key points covered in this section are:
Skybet – Free £10

The only genuine free bet on the market. Register and get a free £10 bet. You wouldn't say no to free lottery ticket. Just in case it's the big one. Open an account, place a bet, hope it wins. You can use it in an arb strategy, but for the sake of £5, you may as well stick it on an outsider winning the Euro's. Like England.

Earn a quick £300+
Follow these steps, to earn up to £300 and more, in a short space of time:
Step 1: Sign-up to the following bookmakers using the links provided below. Some additional information about the bookmaker has been included to help you properly match the bets.
| | | | | | | |
| --- | --- | --- | --- | --- | --- | --- |
| Bookmaker | Offer | Estimated 80% rtn* | Min odds | Tennis rules | Apply | Code info required |
| Paddypower | 50 | 40 | 1.5 | D | | n/a |
| Ladbrokes | 50 | 40 | 2 | A | | Enter promo code FB50 as you register. |
| Betfred | 50 | 40 | 2 | B | | n/a |
| 888 sports | 50 | 40 | 2 | B | | n/a |
| 10 Bet | 200 | 160 | 1.6 | B | | Bonus code required is FD100 |
| Betfair | n/a | n/a | n/a | B | | n/a |
| BETDAQ | n/a | n/a | 1.5 | B | | n/a |
| TOTAL | 400 | 300 | | | | |
* See returns analysis below
Step 2: Deposit £50 into your Paddypower account
Use the Odds Matcher or search for events between Paddypower and Betfair. Depending on your how much start-up capital you've got, you can limit the max odds that you need to lay. Assume for now that you limit the odds to 7.0 (use the Filter to refine the bookmaker and odds results).
Note, that because the tennis rules for Paddypower and Ladbrokes don't match Betfair, we advise deselecting tennis bets when betting with these bookmakers.
The Odds Matcher finds arbitrage bets for you (identified by a rating of Once the Odds Matcher has found you a bet, place a £50 with Paddypower, and lay the other side with the exchange, ensuring that your maximum liability with the exchange is as close as possible to the amount you can win from the bet with Paddypower.
Example 1
If you bet £50 with Paddypower at 1.6, then you will make £30 if the bet wins.
So, you need to replicate the other side of that bet on a betting exchange (ie lay a bet for £50 on 1.6 odds – giving you a maximum loss of £30 if the bet wins).
This way, if the event wins, you now have £80 in your Paddypower account, and you've lost £30 in your betfair account, leaving you with a net account position of £100, as before.
If it loses you have £0 in your Paddypower account, and £100 in your betfair account.
Example 2
If you bet £50 with Paddypower at odds of 5.0, then you will make £200 if the bet wins.
So, you need to lay a bet that gives you a maximum loss of £200 (ie give someone a £50 bet with you at 5.0 odds).
If the Paddypower bet wins, you will win £200 with Paddypower, but owe someone £200 on betfair.
If the Paddypower bet loses, you will make £50 on betfair.
Step 3:
You will then be credited with a free £50 bet by Paddypower. The amount of this £50 that you can turn into profits depends on how much you're willing to lay. The graph below essentially shows how the returns as a percentage of the bonus can vary according to how much you're willing to lay. Clearly the bigger the odds, the more you can squeeze out of your free bet, however most people aim for the sweet spot odds between 5.0 and 7.0, which means you'll need up to £300 in your Betfair account.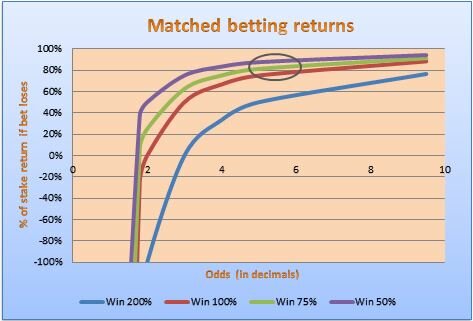 Use our Odds Matcher tool to find good value matched bets between Paddypower and Betfair, and filter the odds between 5.0-7.0 (adjust the filter accordingly). You can used the Stake calculator on the Odds matcher to help you come up with the appropriate Lay amounts (just click the 'i' button next to the rating, then 'Open Calculator' at the bottom of the more detail window). Remember to adjust select appropriately for 'stake returned or stake not returned (which will generally be the case when you're using the offer).
For example, if you find an event at odds of 6.0. Using the full £50 free bet on Paddypower win £250 if the event wins, and loses you nothing if the event loses. You can then decide to do anything from not lay the event at all (gambling on the win), to laying the event at odds of 6.0 for anywhere up to a £250 loss. The following table illustrates the odds that you might chose, and the optimum amount as a percentage of the stake to lay (assuming no overround):
| | |
| --- | --- |
| Odds | Approx percentage of stake to lay |
| 4.0 | 76% |
| 5.0 | 81% |
| 6.0 | 84% |
| 7.0 | 86% |
| 8.0 | 88% |
Step 4: Withdraw your return from Paddypower (if that side has won) reinvest the money into the other bookmakers, and repeat steps 2 & 3. Soon enough, you should have 75%+ of the £400 offers in total. (Remember though, you'll need to deposit at least £400 into 10bet to be eligible for their full £200 bonus. To keep the bet sizes similar to the example above, you can limit your bets made with 10bet to £50 each time).
Follow this procedure on the other bookmakers included in our 'Effective value of sports book offers' and you can earn even more.
Dealing with Refund bets
Refund bets mean that you only get a free bet if your first bet loses. This reduces the value of the offer, essentially by half, and you should adjust your approach to the bet accordingly For example:
Event 1
Place the first £25 bet at odds of 2.0 with 188 bet. Lay £15 with betfair (i.e a £15 bet at evens).
If the first event wins, you win £25 with 188bet, and lose £15 on betfair, netting £10.
If the first event loses, you lose your initial £25 deposited into 188 bet, but make £10 on betfair, netting an additional loss of £10, however you also get a free £25 back from 188 bet.
Event 2
Using the Odds Matcher to help you find a decent value bet for odds around 5.0, you can now:
Back a market with the free £25 bet at 5.0 with 188 bet.
Lay a £21.30 bet (81% of £25) at odds of ~4.8 on betfair.
If the event wins, you win £100 on 188 bet, and lose £79.80 on betfair, making you £20.30, and c£10 including the loss from event 1.
If the event loses, you get no return on the free bet, but get £21.30 from betfair, netted off against the £10 loss from event 1, gives you a return across the 2 events of c£10.
A summary of the returns is given in this table. The key message though is that, you can only make c40% from refund bets, rather than c80%, because their value is halved
| | | | |
| --- | --- | --- | --- |
| | Event 1 | Event 2 | Total |
| Event 1 wins | +25 - 15 = +10 | n/a | +10 |
| Event 1 loses & Event 2 wins | -25+15= -10 | +20 | +10 |
| Event 1 & 2 both lose | -25+15= -10 | +20 | +10 |