How much can I make matched betting?
Since most sign-up offers are for new customers only, there are a finite number of bonuses you can take advantage of, and some are more difficult to actually receive than others.
Generally, up to the first £500 worth of bonuses is considered relatively easy to receive, bonuses from around £500-£800 require slightly more capital, and beyond c£800, it becomes more difficult to receive the bonuses purely as a matched bettor, and they are reserved for professional bettors and sports arbitrageurs.
As for how much of those bonuses you can then turn into real profit/cash, using our matched betting strategy, we target 75+%, however this does require you to be willing to lay bets of up to 7.0. The reason we lay bets so high, is that the higher the odds you are willing to lay, the higher the return you can generate regardless of the outcome of an event. See the graph below to illustrate this: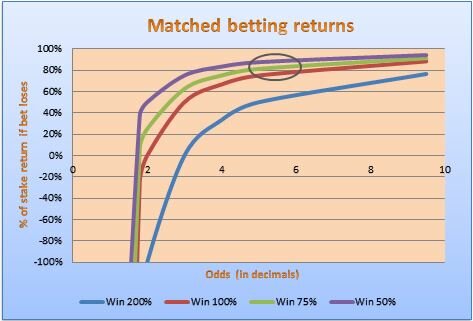 In addition to the sign-up bonuses however, there are re-load bonuses (ie an additional bonus on top of the sign-up bonus) and continuous offers made by bookmakers around the time of big events that, once you have learned the basics of a matched betting strategy, you can take advantage to generate a return.
How much money do I need to get started?
This all depends on how much you want to make, how much you are willing to risk, and how quickly you want to make a return. However, in our Matched betting strategy example, we show you how to make a quick £300+, with around £400-£500 starting capital.
Which bookmakers do I need accounts with?
Numerous bookmakers make offers to entice your custom. We've summarised the offers by 'effective value' to help you choose which bookmakers' offers to take advantage of first. In addition, to use our matched betting strategy and odds matcher, you'll need accounts with at least one betting exchange (either betfair or BETDAQ).
Can I lose money matched betting?
There are 2 main risks to matched betting: 1) you don't get granted the offer or lose the offer advertised, and 2) you mess up the lay side of your bets and expose yourself to risks accidently.
If you take time to understand how to lay bets, and take care checking the terms and conditions of sports betting company offers however, we believe the potential return you can generate outweigh the risks involved.
We only include offers from reputable sports book makers on this site; however there are numerous less trustworthy bookmakers online that will try and rope you in with seemingly too good to be true offers. If you have any concerns over offers you've seen, do not hesitate to get in contact to This email address is being protected from spambots. You need JavaScript enabled to view it. , and we will do all we can to help.

Read our

Matched betting strategy section, and Bonus terms & conditions, and if you have any questions, again, do not hesitate to get in touch to This email address is being protected from spambots. You need JavaScript enabled to view it.

How do I know I'm going to get the bonus?
There are terms and conditions attached to each promotion made by a bookmaker. The key components are considered in our Bonus terms & conditions section. However, the key things to check each time are:
Is the bonus only available to first time users?
Has anyone else in your household/ip address already taken advantage of the bonus?
Are there minimum deposit/bet/odds/rollover requirements to receive the bonus?
How long does the money need to be held with the bookmaker before it can be withdrawn?
All of the offers displayed in our sign-up bonus section relate to first time users (as in, you have not previously had an account with the bookmaker), and assume the use of only one per household. The other information has been summarised in the Sports book bonuses section, however always double check the terms and conditions first before you bet, as these can change at any time.